Home » Entries archive
---
---
Draughts Ambassador Darya Tkachenko and World Champion Alexander Georgiev compete and represent their mind sport
Draught`s World Champion Alexander Georgiev was faced with a "Dutch Wall" during his first three matches, playing Netherland`s top 3 players. Except for a draw with Roel Boomstra, Georgiev mastered his task perfectly and is leading the race after ... Read more »




Championship of Zambia 20

13

Kennedy Phiri - the winner

of 2013 Cham

pionship

...

Read more »
The 10x10 Rapid Qualification Tournament

took place on the 9th of November 2013 at NASDEC. Eight (8) players qualified to the Round Robin Final which starts this week on the 14th up to 17th November 2013.
Below is the list of players who participated in the Rapid games and those circled are the ones who qualified.
Find more photos
here
!
2nd Individual 10x10 National Championship & the Workshop Program November 2 2013 at National Sports Council Hall In Lusaka
Event ... Read more »
Championship of Russia in Russian draughts among men and women are held from 25 September to 9 October 2013 in the resort «Akvaloo» in Sochi. 3 kinds of the program are held: classic, rapid and blitz. Championship of Russia among men is held in two stages. The first stage is completed. The top 16 players will play title of champion in the second stage. See standing after 1st stage in classic program for men and after 7 rounds for women
http://fmjd64.org/2013/championship-of-russia/#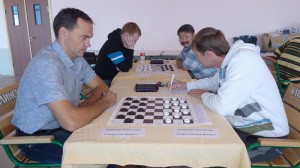 The Lusaka League for 2013 has started!
Here you see Kanyama playing against Kaunda Square:
World Championships 2013 in draughts-64

among men and women (

Russian version

) will be held in

St. Petersburg, Russia

, from August 4 (arrival day) to August 14 (departure day), 2013. The prize fund will be the biggest in the history of draughts-64 – at least 2 000 000 RUB (50 000 EUR). All the rules are published
http://fmjd64.org/2013/world-championships-2013-among-men-and-women/